My Other Car is a Honda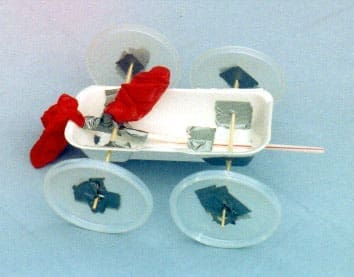 Race
Order
Entry #
Driver Name
Car Name
Mass
(grams)
Length
(inches)
Width
(inches)
Height
(inches)
Distance Traveled
(feet)
Running Time
(seconds)
2
17
Michael Shibata
My Other Car is a Honda
32
11
10
4
6.67
8.91
---
Balloon car designer Michael Shibata writes:
Design approach taken – explain how it worked.


I set forth to achieve and believe accomplished an entirely minimalist
approach to balloon car design…minimal cost, minimal car and minimal risk
to the designer (I did not put my name on my car).

Unique or clever features embodied


State of the Art advanced polymer widget purchased at Chief Auto allows two
balloons to be connected to one thruster jet.

Materials of construction (mention unique parts you used or fabricated)


Fast food hamburger container.

Reasons behind any significant design choices you had to make


Duct tape was added for structural reinforcement to earlier pre-race frame
failures.

Lessons learned (what you'd do differently next time)


Eat at a different fast food restaurant.

Anything else you'd like to add


You get what you pay for.
---
MB 1/9/99