Balloons @ WorkTM
*********************************************************************************************************************************
Balloons@Work is produced by Business of Balloons Pty Ltd (ABN 16-076-582-119) in Sydney Australia and published at approved web sites.
Hard copies are not mailed outside of Australia. Readers may print content to use only as trade reference material.
Email:editor@bizballoons.com.au Web Site http://www.bizballoons.com.au Phone: 61- 02 – 98981544 Fax: 61 – 02 – 98981963
Post; Balloons@Work PO Box 6868 Parramatta Business Centre NSW 2150 – AUSTRALIA.Print Publication No PC250R500054
*********************************************************************************************************************************
In This October 2000 Issue
When To Use Hi-Float                                     Handy Balloon Pro Math
The Qualatex Master Bow – Is it Worth it?        Pro Tips #41 and #16
Olympics Business – Sharing The Spirit              Twister's Pumps – Not By Mouth
Did You Know? (trade education & trivia)         Letters To The Editor
This Month's "Fab 4" Web Sites.                      Free Trade Classified Ads (for sale/swap)
What Does It Look Like? (products & deco pics)

Click Here to Download Newsletter (Windows/Zip)



FROM THE EDITOR'S DESK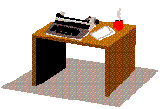 G'Day!
It's time (already) for online issue #2. I must say
how encouraging it was to receive over 500 new
requests, in the last month, to be included on our
subscription list. It was particularly flattering to
receive requests from staff at many of the major overseas
manufacturers of balloon related products. That tells me that they
want to be kept informed, up-to-date with what the decorators, retailers and twisters are reading, seeing and saying. They also want to see if (and what) I write about their products. This is where I should be honest and state my editorial policy being; "If I don't have something nice to say, I'll say nothing!"
Life's too short for litigation!
In Sydney, Olympic Games decor business and custom imprinting sales were fantastic! A RECORD month for most in the balloon business Down Under. We now flow through to the Paralympic Games that commence in the middle of October. Spring heralds the arrival of our peak sales season for balloons that keep the cash registers ringing through till mid March. In contrast, it's the arrival of fall in the USA that brings anticipation of record sales figures for Halloween. Not such a marketing bonanza in Australia yet.
What do you think? Will the world be as enthusiatic about New Year's Eve this year? Did they feel conned by the supposed Y2K bug and all the marketing hype associated with last NYE? Did the public enjoy the celebrations so much last Decemer that they will be itching to do it again? Our hunch….. Some will be anxious to party again with more balloons than last time. Most wont party any more than they did in 1998. So, we realistically expect a marginal increase on NYE sales from our 1998 figures. We certainly would not expect a repeat of last year's December sales figures.
A Canadian reader suggested more pics is what balloonies want to see. I figured that made a lot of sense, so I'll try to oblige. Because I still get regular comments from delegates who attended one of my classes (The Price Is Right) at IBAC last March, I thought it of value to offer two of the handy math formulas to assist the newcomers to the industry when pricing their balloon work. Not rocket science …. junior high school math. Do you remember being in high school and saying, "When I leave school, when will I ever need to know algebra and geometry?"
The rest of B@W is filled with reviews, tips, sales & marketing advice, pics of product, pics of decor and a little bit more. I hope this issue is even more enjoyable (and useful) than the last.
Don Dixon CBA    email:-editor@bizballoons.com.au

PRO TIP #16
Your latex balloons start popping and you notice static electricity is making fragments of latex stick to the venue ceiling and walls and you can't reach them with (or without) a ladder. What to do to clear up the latex pieces and not leave dirty finger marks on the wall or ceiling???? BLOW them free using your electric inflator or even a hand pump. You ALWAYS carry a hand pump in the van ….. Right?

FREE CLASSIFIED ADS
Set of 3 Jiffy Tubes FOR SALE. Like new. Make an offer. email Debbie in CA, USA
BalExprsns@aol.com

SHARING THE OLYMPIC SPIRIT (and the dollars)
Dolly Dixon of Celebrating in Sydney was swamped with work by four of the major official sponsors of the Sydney Olympic games to the point where her staff could not possibly have completed the workload within the parrameters stipulated by the clients. What to do??? She knew it would be commercial suicide to say no to any client of that calibre. Transport, parking and freight conditions imposed in the city of Sydney for the Olympics meant the majority of decor and any sculptures had to be installed after midnght and completed by 6am. Decor required regular maintenance checks and attention for 2-3 weeks.
Fortunately, Dolly had done her homework and anticipated such an occurrence. Her decorating company heads up a group of 10 affiliated independent stores throughout the Sydney metro area marketing collectively under the decorating network banner of "The Celebrating Circle of Sister Stores". The Sister Stores share approx $80,000 worth of work annually. During the Olympics, Dolly farmed out jobs to eight of the affiliates to assist in servicing various client's collective needs. Her thanks to; Affordable Flair, Complete Party, Balloon Mobeele, Balloon Bonanza, Krazy Kapers, Balloon Saloon, Let's Party, Balloon Effects and Qualatex Balloons for giving them the quality products with which to work. A perfect example of when friendly competitors can become a distinct advantage over unfriendly rivals who go it alone.
THE QUALATEX MASTER BOW SYSTEM… Is it worth it?
To be fair, I must warn readers that the bow machine does not print money. It is NOT a shelf item either. It's a TOOL! Just like your Digital Dual Sizer and your computer, YOU have to first sell the customer the finished product. Then, you take advantage of the fact that the new tool will allow you to create and produce a high quality finished product with a HIGH profit margin in a very short time.
The real beauty of this tool is that the product you produce with the Master Bow reinforces sales of your core product – balloons! Often, the bows become the add-on sale she just has to have. The point of difference (POD) that clinches the order for you over your competitor. Especially when they see that the pattern on the bow ribbon matches the design imprinted on the balloons you suggested. Coordinates sell!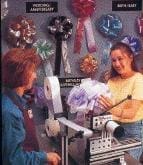 Don't be surprised to find you have a totally new
niche customer as well. Many commercial cust
omers will come to you just to buy bows without
balloons. Shopping Malls, City Hall, Wedding
Coordinators, Bridal Car Hire, major hotel chains
….. because you can make gorgeous, good value
bows FAST on short notice. If you buy a Qualatex
Master Bow system and simply use it for balloon
delivery bouquets, it will eventually show a re
turn on your investment. If you buy one to target
commercial sales and to add bows to your balloon
decor repertoir, it'll pay for itself threefold and
more very quickly! It's up to you?
A word of advice; if you have the Master Bow,
make your bows out of sight and never whilst they wait. Tell them it's a 30 minute ordering lead time per bow. When a customer sees how quick and easy it is with this tool …. they might resent paying top dollar.
Web site:-
www.qualatex.com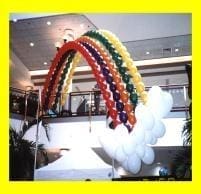 WHEN TO USE HI-FLOAT
1. Every helium latex balloon in a delivery arrangement, especially those to hospitals. (Recognised added value)
2. Halloween Decor. ( still hard to beat the effect of cobwebs inside
a diamond clear latex balloon)
3. In your shop / showroom displays. (customers will ask why
your balloons float longer that others)
4. To make the popular "Confetti-O" balloon as demonstrated by
Jim Parker CBA on the QBN Video Tape #1.
5. The obvious … when you need to quadrupple (+) your latex
float time as did Joyce Stephens of Balloons, Balloons, Balloons
in PA with this mall decor of 5 single string helium arches.
Contact your nearest Qualatex Distributor for a HI-FLOAT instruction video, or for a free booklet published by the manufacturer
Both are a "must have" educational tool.
Web Site:-www.hi-float.com
TIME SAVING BALLOON PRO MATH
1. The Volume of a Balloon? (assume the balloon is a sphere)
1.3333(Pi x radius of balloon cubed)
Example: Volume of a 3ft Jumbo latex?
1.3333(3.14 (Pi) x 1.5 x 1.5 x 1.5)    (metric)  1.3333(3.14 x .45m x .45m x .45m)
1.3333 x 10.5975 1.3333 x 0.286 cu m
= 14.13 cu ft = 0.38 cu m

2. Number of Balloons in a Drop Net? (Rough estimate – Rule of thumb)
NB: Assume the filled drop net takes on the shape of a cylinder.
Volume of a cylinder divided byVolume of the latex balloon x 0.66.
(Area of circular end section x Height) x 0.66
11" balloon volume is 0.5 cu ft
Example: Size of empty net is 20ft x 12ft (folded envelope)
Therefore:- circumference of filled cylinder net will be 2 x 12 ft….. and length of net will be 20ft



So ….. Radius = 24ftx 0.5 (half diameter)
3.14 (Pi) 20ft
= 3.8ft
Area of End Section = 3.14 (Pi) x 3.8 x 3.8
= 45.34 sq ft
Volume of Cylinder = 45.34 x 20ft (length of cylinder/net)
= 906.8 cu ft
Now … we know the volume of an 11" latex balloon is o.5 cu ft.
906.8 x 2 x 0.66 (factor for "bulking") ie; the gaps or space between the inflated balloons.
= 1,196.97 balloons
Important this is a "rule of thumb" method. Because the net when filled actually shrinks in length and the circumference is reduced due to stitching …. allow around 8% fewer balloons than calculated by the formula used. (Beware: Some net material stretches)
RESULT:- The net will hold approx 1,100 x 11" latex balloons.
A 20ft (6.0m) x 12ft (3.6m) folded envelope net, will have an actual diameter of close to 7.5ft and a length of approx 18.5ft when filled with 11" (28cm) latex.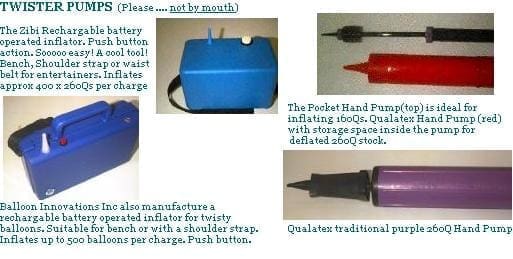 In Australia all inflators available through Business of Balloons email: sales@bizballoons.com.au
DID YOU KNOW?
The Sydney NSW-QBN Chapter are holding a CBA Tuition Evening on October 3rd at the Sydney Balloon School. All CBAs are welcome. The purpose of the evening is to inspire and assist non CBAs to gain their accreditation. Are you sitting the CBA exam soon? Are you working your way through the video tapes and test papers? Need to shown those knots by an experienced and friendly hand? RSVP (02) 98981544.

The Carolinas QBN presents the CAROLINAS BALLOON CONFERENCE featuring guest speaker, Gary Wells, CBA, AIFD, on Sunday, Oct. 22, 2000, at the Holiday Inn-Woodlawn, Charlotte, NC. Gary will conducting seminars entitled All Occasion Tabletops and also, Theme Parties Roundtable. Join us for a day of exciting seminars, roundtable discussions, vendor booths, product demonstrations, lunch, snacks, auction, great door prizes PLUS: Decorator Stations featuring Fantasy Flowers, Creative Columns, Twisting 260Qs, Basic Framing, Pool Floats & Foamboard with Balloons. Certified Balloon Artist Exam
on Monday, Oct. 23., Charlotte, NC. For a registration packet email: bravoevent@aol.com or call Kelly Ensminger (704) 643-0504.

The latex used to manufacture your Qualatex balloons was most likely "tapped" from rubber trees in west AFRICAN tropical rainforrest regions. Most assume it is imported from South America or S.E. Asia.

The one's you least expect! Leaking inflation equipment (regs) and sloppy inflation technique are the most common cause for wasted helium? Have the correct regulator for the job. Test for helium leaks with soapy water every 2 weeks and make sure your staff aren't wasting helium by not sealing the balloon neck to the regulator tip properly.
Every popped balloon is wasted helium, latex and labour. If you are finding an average waste factor in latex balloons higher than 2 – 3% you aren't using Qualatex! (or it's not a balloon problem) You might pay a few cents (even a dollar a bag less for other brands ….. but add on the REAL cost of the higher waste factor and you find your purchasing decission is probably flawed.

Don & Dolly Dixon CBAs offer a full day of "Balloon Basics & Beginner's Decor" trade tuition at the Sydney Balloon School on Sunday October 15th. For The first time in Australia …. Sunday November 12th, Don Dixon offers the class he taught in Las Vegas this year at IBAC 16. His new "The Price Is Right" followed in the afternoon by; "Balloon Drops & Special Effects" This will be the last round of classes this year. Prepare for Christmas and New Year 2001 decor sales. Advance bookings only. No payments at the door. If you would like Don & Dolly Dixon to present a 1 or 2 day seminar in your state/country titled; "How To Hit Seven Figures Turnover", have your Qualatex Distributor contact us – ( the balloon biz motivational wiz) for more details; dond@bizballoons.com.au or phone; 61-02-98981544
www.eballoons.com.au receives more online bouquet delivery orders (to Australia) from Canadians than from US eballoons members. Yet Aussie eballoons members send more overseas bouquets to US destinations than to Canada. Go figure??? The eballoons destination statistics show that members use the online service for convenience as follows in order of popularity;
1. Deliveries outside 10km (6 mile) delivery zone and within 50 km (30 mile) radius from business base.
2. Deliver to city in same state. 3. Neighboring State 4. Interstate 5. Overseas
LETTERS TO THE EDITOR
Hi Don,
Thank you for introducing me to your newsletter. I find it amazing that you are a CBA, wholesale supplier, assembler of so much data for the newsletter and you still have time for email. The newsletter is full of relavent and important information. It seems that you have thought of everything: Industry politics, upcoming events, new products, recognizing web sites, a help desk and I applaud your principal of allowing everyone to have their piece of the pie when it is easily in your power to eat the whole thing (selling direct). I'm looking forward to reading your next issue


Rosemarie,
Bronx, NY – USA

Dear Don,
Once again this International Trade Paper is a hit! How do you come up with such great ideas?
Do you get any sleep? Once again I am amazed and in awe of your talents. Just makes me want
to visit the Lands Down Under , but I will settle for Chicago.
Donna Sivley
Balloon Peddlers ExtraordinAIR
Milfor, Delaware – USA
Editor's Note: It's compliments like your's Donna, that keep me at the keyboard. Thank you!
Hi Don,
Could you provide me with a price for the Adjust-A-Length ribbon Wheel? Is it available anywhere in the US? Thanks also for the first online edition of your newsletter – it's awesome. Thanks again.
Mary McFarland
Don & Dolly,
I just HAVE to tell you, I learn MORE from every single one of your replies (to the BHQ list) than I do from those posts that say 'check the guide' and 'the guide should help you' replies. You two are true supporters.
And btw, I'm not knocking the guide, I do read it frequently. I just like the ideas and support you guys have to offer.
Selena (newbie) LA
USA



OUR OCTOBER "FAB 4" WEB SITES
http://www.balloonlady.co.uk
The Balloon Lady of Oxfordshire in the UK has a nice wedding page and photo gallery. Penny Hart CBA has also introduced appropriate music and I love the way she shapes her images. Simple, clean, elegant work.
http://www.tmyers.com (bookmark this one)
If you are a twister/entertainer and want to visit twister products heaven ….. this is the place! Get on their free mailing list and find out about upcoming jam sessions in the USA. Check out the products list!
http://www.qualatex.com (bookmark this one)
If you are member of the QBN, your business details were recently updated on the Qualatex web site. And if you have never visited this web site???? Shame on you! Get that mouse clicking and learn so much for free.
http://www.mercedes.com/e/ecars/transporter/v-class/photo1.htm
A contender for balloon delivery van of the year. The latest Mercedes vans are really cool! Nice to look at, nice to drive, nice interior and not so hard on the pocket. Approx. capacity of 200 inflated 11' latex would be the max for the basic V model. If they're available in Australia, I expect availability just about everywhere. (if only I was in need of a new van?)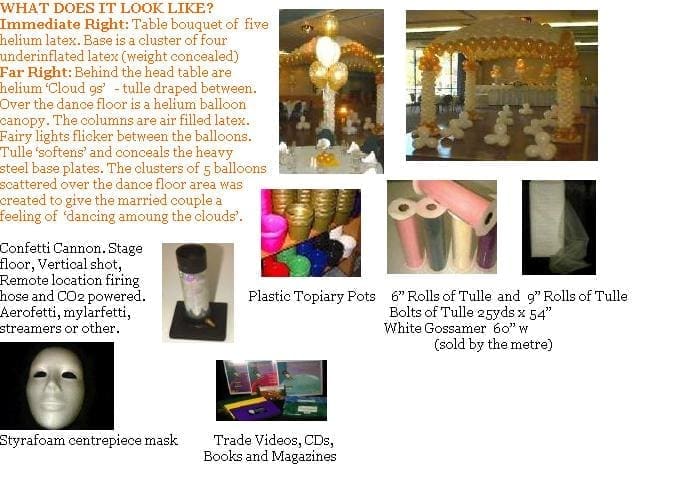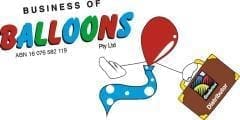 CONTRIBUTIONS
If you'd like to contribute a tip, a photo, some news
announce a new product to the balloon industry … Contact Don Dixon
dond@bizballoons.com.auThe next issue of Balloons@Work will be
posted in the first week of November. Deadline for copy is Oct 21st.
Order any product shown in Balloons@Work at; sales@bizballoons.com.au