Miscellaneous Ramblings
by Larry Moss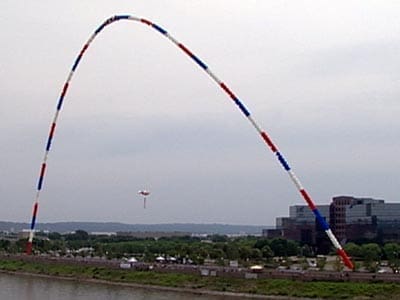 World's largest balloon arch. For scale, note the 8-story building in the background.
High profile balloons
World's largest balloon arch
Early this month we saw the owners of Unique Balloons in St. Paul, MN creating the world's largest balloon arch. Greg, Karen, and Jessica Arrigoni and approximately 27 other people including family, friends, and balloon professionals created a ruby red, white, and sapphire blue arch out of 1404 3-foot balloons and 36 4-foot balloons. The arch was 600 feet wide and 340 feet tall and could be seen over the Mississippi River. Construction began on July 2, 2004 at 9:00 PM and was completed at 5:45 AM with about an hour to get it from its secured location to its flying position.
In the last few years, we've seen quite a few record attempts. Others have claimed in the past to have the largest balloon arch. What made this one unique was the use of 3-foot balloons. Other "large" arches may have used more balloons, but this was a massive structure, unlike any others. Congratulations to Unique Balloons. <!–
Balloons in politics
Balloon drops have become a staple at the US national political conventions in recent years. Apparently the major political parties were looking for something friendlier and more predictable than the doves that swooped down and attacked President Harry Truman and others during the 1948 Democratic convention.
During this year's convention, almost 100,000 balloons fell in a half hour long balloon drop. Some interesting discussions have arisen on the decorator forum in the last few days based on some rather colorful words that were picked up by a CNN microphone. It seems that the producer of the event had a very different idea of what was supposed to happen than what we saw. At this point, we haven't received any "official" statements regarding the timing. We don't know if events played out as contracted or if something did go wrong. I wish we could get some details since it would help all others do a better job in the future. Regardless, it was a spectacular looking drop and all involved should be commended for taking part.
Read some messages from the forum to see what others have to say about the drop: 1 2 3 4 –>
This month's conventions
Ballooniversity
Ballooniversity, put on by Flowers, Inc. Balloons in Georgia, came and went this month. Balloon artists from around the world gathered and walked the yellow brick road while improving their ballooning skills.
Flowers, Inc. Balloons doesn't mess around when it comes to prizes for competition. Over $15,000 in prizes were given out to this year's winners. If you think you're up to the challenge, consider entering next year. This year's Designer of the Year is Connie Iden-Monds of Party Animals in Nashville, TN.
Photos of the event and a complete list of winners are available on their web site. If you missed it this year, you can mark your calendar now for next year's event July 27-30.
Summer Balloon Camp
Once again, BalloonHQ.com will be attending Summer Balloon Camp, hosted by Balloon Supply & Design House. We'll be taking photos throughout the event. Like last year, we plan to have online voting for the competitions. Make sure you check back Aug 15-18 to see what's going on. A link to the convention photos will be up on BHQ's home page when the event starts. Of course, if you want to take a trip to Las Vegas, it's not too late to sign up now and cast your votes in person.
Japan Twisters Convention
For those that didn't make it to Georgia and won't make it to Las Vegas due to the distance from home, it's worth noting that the first balloon twisting convention in Japan is happening early this month.
Lots of stuff
As always, there's a ton of stuff going on for artists everywhere. Make sure to check out the other events on the BHQ calendar.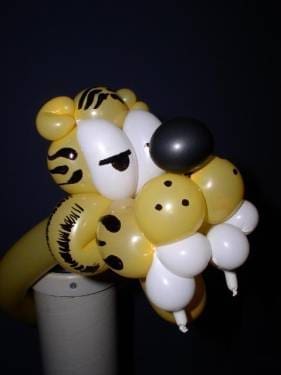 Sabre tooth tiger by Patricia Bunnell
Featured artist portfolio: Patricia Bunnell
Patricia Bunnell aka Pockets the Clown from Vancouver, WA has a wide variety of twisted sculptures in her portfolio. Quick and simple figures as well as detailed sculptures are sampled here.