Miscellaneous Ramblings
by Larry Moss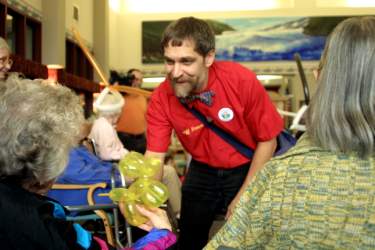 Jeff Brown, creator of Balloons Around the World
---
Balloons Around the World (Balloons Across America grows up)
Balloons are fun. We know that. Our clients know that. There are still
quite a few people left in the world that haven't yet learned the joys of
balloons. That's why Jeff Brown of Juneau, Alaska has, for the second year
in a row, organized balloon artists around the world in an event designed
to make people smile at the site of our artwork.
October 4, 2000 marked the first event of the kind. It was called Balloons
Across America. Jeff asked twisters on BHQ to join him in only one hour of
giving away balloons. He never imagined what would happen. Almost
immediately, twisters around the world, not just in the US, offered to
assist in a day of fun. So much for just an hour of giving away balloons.
This turned into a full day where artists performed, taught twisting, and
constructed large displays for nothing other than a bit of recognition.
Soon after it ended, Jeff started planning the 2001 event. Hundreds of
participants signed up and many others just went to work without listing
themselves on the official roster. It's sure to be even larger next year.
View photos of large sculptures and twisters at work during this year's
event.
A stunning artist portfolio
A number of BHQ members have been hard at work constructing online
portfolios. With the new features of the BHQ portfolio system, this has
gotten easier, and the results better than before.
Su Laswick gets credit this month for the most photo uploads to BHQ and
therefore the largest member portfolio. She's put a lot of effort into
sharing.
A few other people have been busy building BHQ portfolios. See how others
are using them. If there's interest, we'll make sure to feature someone
else next month.
Learning to Create your own portfolio
Building a portfolio that you can use to show off to your clients is easy.
If you missed the tutorial that was recently posted to the twister and
decorator mailing lists, you can still read it on the web.