Breaking The Mold
Don Caldwell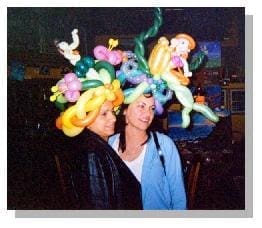 "When you work, every child needs to get a balloon".
"The real money is in busking at street fairs and festivals".
"If you are going to work restaurants, you have to work for tips".
"Balloon twisting is children's entertainment".
"Elaborate balloon sculptures are only good for competitions and jams"
Why? Why be satisfied with working the same venues in the same ways that everyone else does. Every successful balloon artist I know has one thing in common. They have broken every one of those rules. The truth is that balloon twisting is an art. And the first rule of art is, there are no rules. Art is anything you can get away with. To be really successful you have got to take some chances! Break the rules! Dare to be different! Kiss that frog!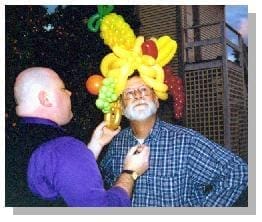 Many balloon twisters believe that balloons are for kids. In two of my weekly restaurant gigs, over 90% of the guests are adults. I get only a few kids at one, and at the other they are practically non-existent.
I have found that for me, twisting for adults requires a very different approach. Adults are far more skidish creatures than kids are. If I go to a table and offer to make a balloon, they will usually shy away from me. So I pick a highly visible spot in the restaurant, I set up my bag, and I begin to make something wonderful. Slowly heads begin to turn. They start to whisper among themselves, wondering what it is going to be. It is like holding your hand out toward a shy animal. At first they are defensive. But the longer you are there, and you show no threat, the more likely they are to slowly creep over and investigate. And once the first few come over, the others will follow.
And, unlike kids, they do not all want one. Many of them are content to simply marvel at the finished product. Some just enjoy watching the process of the balloon masterpiece being created. That means that I now have the time to make beautiful, elaborate creations that take forever! Last week at, "Cousin Jacks Mardi Gras Cafe" I only made thirteen balloon sculptures during a three hour shift, and they loved it!
Now I am talking to an upscale hair salon where Friday nights are "Apple Martini Night", and they are considering bringing me in as part of the weekly festivities. My job would be to create elegant balloon hats to enhance their new hairstyles.
Do you want to spice up your kid shows? Next time you get a call for a girl's birthday party, offer them a "Balloon Fashion Show".
Make up several really wild balloon hats ahead of time. Things that you may not have time to make at the party. When you arrive, every one gets balloon costuming. Boas, earrings, bracelets, hats. Anything and everything wearable. Once you have everyone decked out in the latest inflatable fashions, you begin your balloon fashion show.
Have a boom box with a tape or CD of good runway music.
Most party stores have party curtains made of mylar streamers that go over an entry way. Use one of those as the entrance to the runway.
Hand out disposable cameras to the party guests. As each model enters the room the others can start snapping photos.
The really wild creations that you brought ahead of time can be reserved for the guest of honor and one or two other people like brothers and sisters or grandma.
During the fashion show announce each model and describe their outfit for the paparazzi.
Hand a few of the grownups flashlights with colored cellophane over the front to shine around as the super cheap light show.
Want to have even more fun? Start out with a quick balloon twisting lesson, teaching them a hat base and how to spiral two balloons together. Then let them create their own balloon costuming. They may lack the elegance of your own creations, but the kids are going to have a blast!
Now you have turned making a few balloons into a truly unique and memorable event. And because of the uniqueness of this service and the disposable cameras, you should be able to charge a very nice chunk of change for this delightful little package. You can even use this as a part of your other shows. Just bring a few pre-made costumes and then pull four or five volunteers from the audience to model.
Sick of line twisting? Next time a client offers to hire you for a school carnival or any other mob scene, offer a balloon twisting demonstration. Just like people who do ice carving or wood carving demonstrations, you will set up a work area, and make large scale balloon creations. Make cartoon characters, weave a motorcycle, just make it big! The event organizers can sell raffle tickets, and give the balloon creations to the winners. If you are still feeling guilty about kids not getting balloons, have helium balloons with the name of the events sponsor, and hand them out to the rest of the mob.
I would offer you some examples from other twisters that I know, but they are keeping their gigs a secret. Why compete with a hundred twisters for the same few jobs when you can be the only twister in a market that is all your own. There are just so many possibilities once you step out side that little box.
Don Caldwell koolsyawlasyeknom