Two-Balloon Blaster
by Ralph Dewey
This month the Balloon HQ Challenge is a balloon gun or rifle.
This AK47 style rifle is very simple to make and is sure to please any boy who likes guns.
Frame
Inflate a black #260 fully except for about 1″ and tie off the nozzle. Twist off a 5″ bubble and a 1″ bubble. Ear twist the 1″ bubble. Twist off a 13″ bubble and fold-twist it. Twist off a 4″ bubble and a 13″ bubble. Fold twist the 12″ bubble. Curve the remaining balloon which should be about 6 or 7 inches. If it is too long (balloon lengths can vary), cut and tie off any extra length.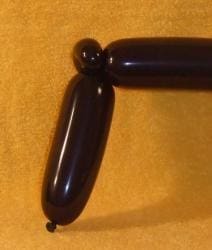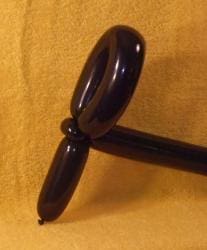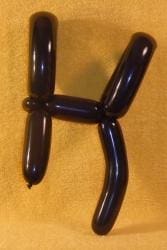 Barrel
Fully inflate a blue #260 except for about 1.5″ and tie off the nozzle. Make a 1″ apple twist on the nozzle end of the balloon. Twist off a 19″ and a 1″ bubble. Ear twist the 1″ bubble. Twist off a 4″ bubble and a 1″ bubble. Ear twist the 1″ bubble. Poke the balloon into the two loops on the black balloon as shown to complete the blaster.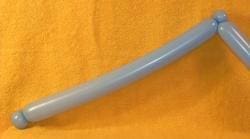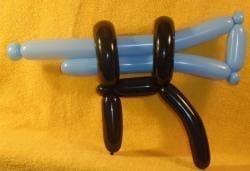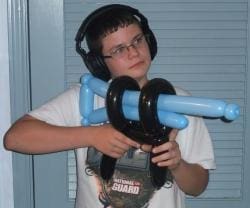 ---
I first met Scott Davis a few years after I began my career in balloon twisting. He was the first truly creative balloon artist that I had ever met. Until then, the balloon twisters that I knew were ones who made creations designed by other twisters mainly from books. At one of the conventions we were attending, Scott made a large (about 4 foot in diameter) merry-go-round with a large American flag across the top. He also made a large E.T. figure. It was designed so that its head could extend up and down. It was very impressive. Over the years he has diversified his talents to include ventriloquism, magic, comedy, clowning and street performing.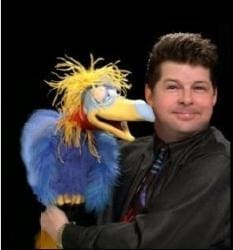 Scott Davis
Where and when born? Where did you grow up?
I was born on June 5, 1957 and grew up in both Beaverton and Portland, Oregon.
What type of work did you do before taking up balloons?
I was and still am a metal polisher in the metal finishing industry.
When and how did you get started in balloon work?
I started in 1981 as a tool for my clown character, who worked for a custom balloon delivery service, as well as birthday parties etc.
What is the best part of working with balloons?
I always say it's like having a universe in my pocket, and that I can create wonderful things out of almost nothing.
What is the least favorable part of working with balloons?
The noise from popping and some squeaking (not as bad now, as the old Ashland balloons were), and the fact that my creations don't last.
Is twisting a full or part-time job for you? If part time, what percentage?
My first twenty years was about 50%, but I've slowed down to about 10-20%.
What balloon artists have influenced you the most?
Stuart Hayner, Brian Zellner, and absolutely Ralph Dewey.
What have been your greatest successes (awards, achievements, etc.) in your balloon career?
Working with the National F.C.M convention and immediately becoming a staff member for 5 years, being a trend setter, and my two books in the mid 1980's namely, "The Book of Advanced Balloon Art 1 and 2".
In your shows, what does it consist of? How long? What types of things?
Magic, Comedy, Ventriloquism and Balloon Art. Shows are usually 30 min to 1 hour.
Where did you mostly twist or perform?
Birthdays and company picnics at first, but now mainly club and company events.
What balloon twister "firsts" have you accomplished?
I was the one of the first to introduce net weaving, starting with the flower basket, which became a staple in the balloon world.
What balloon ideas are attributed to you?
I really can't say, I haven't been out there so much as I used to at balloon jams and such…But I know that I influenced many artists to raise their level in technique.
What are some interesting or funny balloon stories?
My Favorite is when I made an E.T for a flight attendant in about 1982, she didn't have any Kahlua for the free drink she offered me, so she looked up the hotel in our tour package (me and my wife) and sent us a basket of fruit and a bottle of Kahlua! Two weeks later I got a thank you letter from the airlines, which was delivered to my travel agent. There are just too many stories and blessings I have received over the years. I can just say that you will always be remembered when you give someone a balloon gift.
What is your favorite balloon animal, balloon skit or balloon bit of business?
I've done a bit with turning a wiener dog gradually to a poodle for my whole career, and for every age group and size of crowd. The routine then ends with making the Punk Rocker on a Harley, which always gets a huge reaction! I remember in the early days when balloon art was a lot more basic, when I would get huge crowds on the street just by demonstrating a Snail or a Helicopter out of a single balloon! Single balloon creations were my specialty for the first several years.
What is your most amazing balloon moment? (most embarrassing, interesting, humbling, etc.)
When I built a two story high black widow, with eight 15 foot high legs, and a body the size of a van, for a major shopping mall. When it was finished and raised up to form in front of the crowd it was just simply astounding, because the project almost failed and my career was on the line. I continued for 5 years there making huge creations, totally by freeform net-weaving.
Where do you get your inspiration or creativity from?
Ralph Dewey and my own 3D visualization ability.
What brand of balloons do you use?
Qualatex 260's and occasional 350's for the big stuff.
What is the secret to your success?
Confidence, and the love of giving people a "moment"
To see some of Scott's balloon work over the last 20 years, view the video below. Scott Davis balloon art slideshow. http://www.youtube.com/watch?v=mnMBDZJBlms