BALLOONS THAT SIZZLE
by Ralph Dewey
I just got back from Twist & Shout 2002 and as expected, I had a blast.
There was so much to choose from. I am sure that each person who attends
will get some benefit from it in his or her own way. I enjoyed it all but
some parts were especially fun. I enjoyed the stage performances, the
little groups of jamming, the wonderful sculptures in the competition and
the fellowshipping. Not only did I get to see some of my old friends like
Bob Follmer and a host of others, but I also got to make some new friends
as well.
The Impossible Balloon
One neat thing that happened at Twist & Shout was the conquering of the
"impossible balloon". Someone had made a challenge in one of the emails
on the Balloon HQ list. They wanted to see if someone could figure out a
way to make a continuous loop out of a long balloon so that a super ball
could roll all the way around it. I was there when it happened on
Saturday night. It was John Holmes, a lady twister (I didn't get the name
of the lady) and myself. All three of us were struggling with rubber
cement, the ball and a clear #350 balloon. After several attempts, we
finally got it more or less like we wanted it. And it worked! It wasn't
very pretty, but it did allow the ball to roll all 360 degrees around
inside of it. It was sort of like the Wright brothers flight. Their
first flight wasn't very impressive by today's aviation standards, but it
was the very first flight of an airplane. Even though it isn't in the
same class as air flight, the conquering of the "impossible balloon" was a
first too. I sure am thankful that God gives balloon twisters a lot of
creativity and resourcefulness. Now I am wondering, what other balloon
challenges might we overcome?
The Sizzle
I noticed lots of "bells and whistles", so to speak, added to the balloon
competition this year. Several entries had sound, motion or visual
effects. They were sculptures that sizzled. I noticed one entry that
used a black light. To see the neon sculpture, you had to look through a
hole in a large black box. Another entry had blinking "neon wires" added
to some cars in a tunnel of love. The cars rotated while on a lazy Susan
device. I noticed a Farris wheel that actually rotated. It had a metal
structure, but used balloons as the buckets and for some of the
decorations. One balloon sculpture was of a cameraman and his old
fashioned camera. If you squeezed the camera bulb, he spoke to you. One
design had a balloon sculpture in a clear #350 balloon partially filled
with water. The balloon sculpture was floating inside. A sign asked you
to wobble the table slightly. Another entry had a wild drummer. The sign
asked you to press a button. If you did, the sculpture came alive with
motion and music. There was also a snake charmer and his snake. If you
clapped your hands, you heard him play music. One entry was a red dragon
(or was it a dinosaur?) with a man concealed inside. He would walk (using
tiny steps since the legs couldn't move) around so that it was a sculpture
in motion. Still another entry had a remote controlled car covered with a
sculpture of a balloon car and driver. It moved, honked its horn and
drove around. So you see, there were lots of balloons that sizzled. I
really enjoyed seeing the massive amounts of innovation at the convention.
Keep up the good work gang.
The Balloon Banana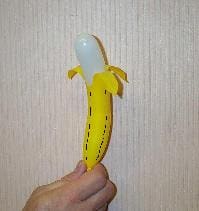 I made a balloon banana at the convention. Several people wanted to know
how it could be made, so here is how. I took a yellow #646 balloon and
cut off about 4-1/2 inches of the nipple end and discarded it. On the
nozzle end of the balloon, I made several lengthwise slits about 2 inches
long down the sides. You'll have to experiment to get them right. I
trimmed each peel so that it had a point on the end like a real banana
would have. I then took a white #160 balloon and cut off about the last 4
inches of the nipple end. I discarded the nozzle end of the balloon. I
didn't want a knot to show on the end of the banana, so I used the nipple
end of the #160 balloon for the white pulp. I then inserted the #160 into
the nozzle end of the yellow #646 and inflated it. I had to experiment
with it a little before I got the proper placement. Once I had it
positioned correctly I tied off the end of the #160 and trimmed it with
scissors. For a touch of realism, I placed some stripes on the banana by
using a black marker. Since the peels are not glued in place, the banana
has to be held vertically so that they will hang correctly. I also found
out that if you cut them too short, there isn't enough weight for them to
hang properly.
A One-Balloon Frog
One of the twisters that I met in the jam room was Toby Parent. I noticed
that he had a frog from a single #260 balloon. He said that it had been
discovered when someone was actually making a swan. At some point they
decided to wrap the neck of the swan around the tail feathers. Then he
noticed that it looked like a frog. Not bad for a quick frog.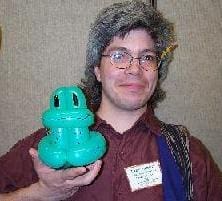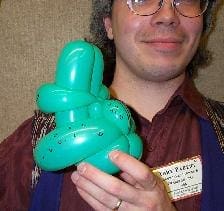 ---