Pumpkin Face
by Ralph Dewey
The Balloon HQ challenge this month is a pumpkin or a Jack-o-Lantern.
With Halloween coming this month, I'm going to share a pumpkin design with you. One that has a face built into it rather than just painted on it. You'll need 3 or 4 Goldenrod #260 balloons, one green #260 balloon for the stem, one white #260 balloon for the eyes and one black #260 balloon for the eyebrows.
Inflate one of the Goldenrod #260 balloons fully except for about 2 inches and tie off the nozzle. Twist off two 12-inch bubbles. Bring the ends together and tie them. Then twist off a third 12-inch bubble. Roll it through the first two bubbles to lock it in place. Deflate and tie off the excess balloon. Be sure to leave some balloon for tying purposes. This is the first 3-bubble cluster.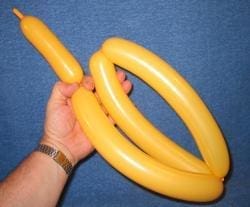 Make a second 3-bubble cluster and tie the ends together to for a 6-bubble cluster. Continue by making a third 3-bubble cluster and also tie the ends together. Now you have a 9-bubble cluster of balloons to be the body of the pumpkin.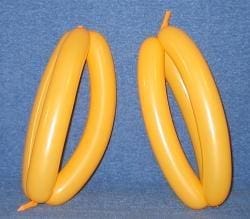 Use a section of a Goldenrod #260 to make the upper lip. Twist off a 4″ bubble and a 3″ bubble. Then tie them end to end. Leave some scrap balloon for tying purposes. Make another set of bubbles the same way to be the lower lip. Pick a spot on the body of the pumpkin between two of the 12″ bubbles and tie the lips to the top and the bottom of the pumpkin.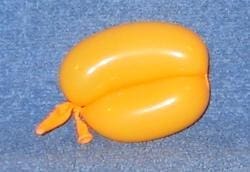 To make the stem, inflate a green #260 to about 10 inches and tie off the nozzle. Twist of a 1″ bubble and Ear Twist it. Make two more 1″ bubbles and Ear Twist them as well. Arrange the ear twist in a circle side by side. Twist off a soft 5″ bubble. Tie off and discard the remaining balloon. Make sure you have some balloon scrap at the bottom of the stem so that you can tie it to the top of the pumpkin.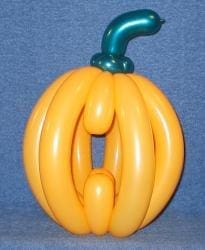 The eyes are made from 3/4″ sections of a white #260 balloon. Tie a knot on both ends of the bubbles then tie them tightly end to end. Trim off the excess balloon scraps. Wedge them to the sides of the upper lip. Use a black marker to decorate the pupils of the eyes. The eyebrows are air filled (but not inflated) sections of a black #260. Place a knot at both ends to trap the air inside. They are about 1-1/2″ in length and secured in place with some rubber cement. Place the eyebrows at an angle as shown to give the pumpkin face a mean or scary look.