Simple Beaver Hat
Patricia Bunnell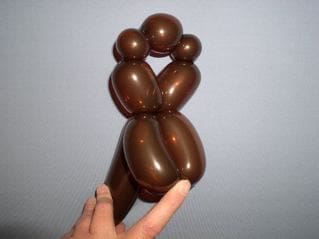 1. Inflate a brown 260 leaving a 2 inch tip. Make two 2 inch bubbles for its nose. Next make a 5 bubble "teddy bear head" cluster. Start with a 1.5 inch bubble followed by a 1/2 inch bubble, a 1 inch bubble, another 1/2 inch bubble and finish with a 1.5 inch bubble. Lock twist them all together.
2. Pinch twist the two 1/2 inch bubbles to form its ears.
3. Make a pinch twist in the back of the head/muzzle.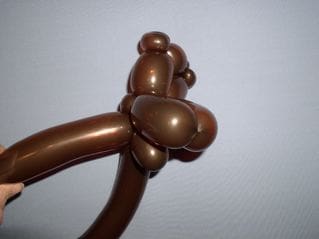 4. Fit the rest of the balloon around the childs head. Hopefully you'll have about an inch and a half bubble left for the bottom jaw. If not, you may have to stretch the balloon to fit the head and have enough left over for the bottom jaw.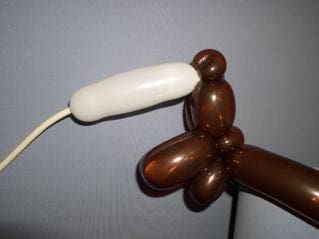 5. Inflate a white 260 about 6 inches. Attach at the ear.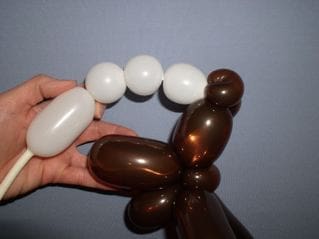 6. Make a four bubble cluster starting with a 1 inch bubble then two one half (or so) inch bubbles.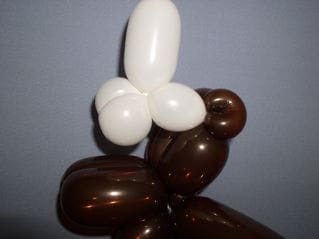 7. Lock twist together. Make one more 1 inch bubble for the other eye and twist it in at the other ear.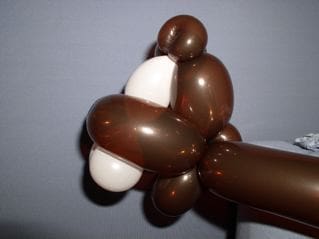 8. Roll the two 1/2 inch bubbles through the nose to form its teeth.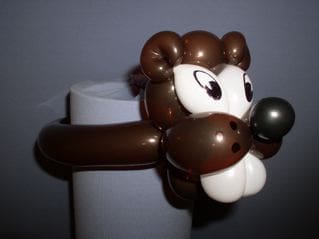 Add artwork and a black tip for a nose!