Beautiful Swan Hat
Patricia Bunnell
Step 1: Fully inflate a white 260. Make a basic hat base. (See notes below to learn how to make a very tall arch on your basic hat that will fit any size head!)
Step 2: Fully inflate 2 white 260s. Make two small bubbles and lock twist them together.
Step 3: Twist the two small bubbles to the hat base.
Step 4: Make two more small bubbles on the tip ends of the white 260s and lock twist them together. Twist them to the opposite end of the hat base.
Step 5: On one end go up about 8 inches from the hat base on both wings and bend inward.
Step 6: About 8 inches from the first bend make another bend outward.
| | | |
| --- | --- | --- |
| | | |
| Finished wings | Step 7 | Step 8 |
Step 7: Inflate one more white 260 and make a 3 – bubble cluster. Each bubble should be about 6 inches. This is the head and neck of the swan.
Step 8: Make a 1 – inch pinch twist behind the head.
Step 9: Add the neck to the front end of the hat base. Slightly bend the balloon to get the shape of the neck. I've added a glue dot where the neck and hat base meet for stability.
Step 10: Fully inflate a black 260. You will only be using the tip end so let all the air out except about 8 inches at the tip. Discard all but 1/2 inch of the un-inflated part of the balloon
Step 11: Make a small pinch twist at the knot end of the black balloon.
Step 12: Add the black balloon to the head by twisting the pinch twist through the white bubbles.
Step 13: Make a very soft 1 1/2 – inch bubble out of a black 260. Twist it in half.
Step 14: Insert the eyes in the head.
Notes: To stretch the balloon I fully inflate a 260 and burp it a little. Grab hold of the knot with your left hand and grasp the balloon with your right hand next to your left hand. Make a fairly tight fist with your right hand for the balloon to slide through. The friction of this action should make your hand warm. If it doesn't, make your fist smaller. I can gain about 8 – 10 inches doing this. I've had very few balloons pop. Many people have used this technique and are happy with it because of the high arch you get on the hat base.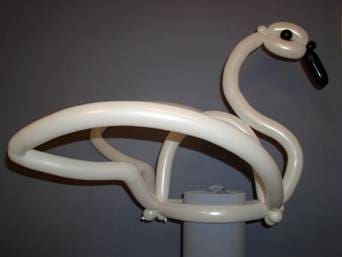 Viola – a beautiful, easy and larger that life swan hat!