Press Releases for May 2007
Balloon Manor III: Elastic Park
Registration for Balloon Manor and Airigami U 2007 is now open. It is your
chance to learn from the very best artists in the balloon industry as well
as work side by side with them to create the most ambitious balloon project
ever, Balloon Manor III: Elastic Park. This is the Scream Park edition of
Balloon Manor.
You'll be part of a small group that will rotate from one instructor to the
next.
In addition to personal attention from each Designer/ Instructor on the
project you'll also learn about every aspect of this amazing project.
All workshops will be hands-on, and will cover topics including sculpture
design, balloonicature, large scale decor, large scale balloon project
management, even promotion and public relations. You'll be a part of it
all.
Imagine how impressed your clients will be when they see the photos of
your work on this project.
And that's just the balloon benefits! This amazing piece of pop art is for
a good cause. The first two incarnations of Balloon Manor raised more than
$50,000 for cancer research, treatment, and awareness as a result of the
help from hundreds of professional balloon artists and community
volunteers. With a larger and busier venue, our goal is to continue to
raise even more money while coming together, learning together, and
creating together.
Just some of the folks on the design team include, Larry Moss, Don
Caldwell, Wynn Bell, Linda Bruce, John Barthelmes, Troy Apprill, Brian
Asman, Connie Iden-Monds, Tawney Noreen, Todd Neufeld, Mark Verge, Mike
Necheles, Dee White.
Total cost for the event, including 2 meals a day is $150 (before Aug 1).
Hotel is $89/night.
More information is available at
http://www.balloonmanor.com/school.php.
Larry Moss
BalloonHQ.com

Betallatex Announcing Design Contest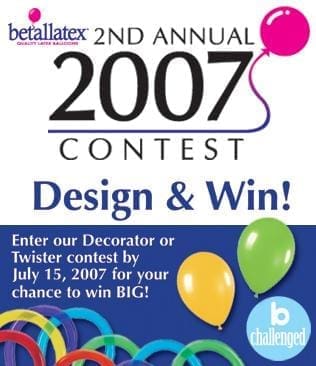 Betallatex currently has an awesome contest running through July 15 for decorators and/or twisters! Check out the website for details. Simply go to
www.betallic.com
then click on the b*gallery. After logging in, go to b*challenged for contest details.
Be creative!
Win prizes!
Have fun!
Qualatex Everyday 2007 Catalog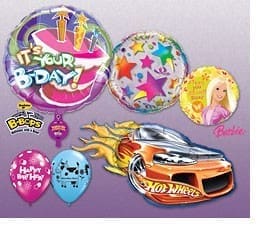 Discover a whole new world of products in the "Qualatex Everyday 2007" catalog, which contains more than 150 new items your customers will request again and again.
New products include:
Qualatex Bubbles – Stretchy plastic balloons
Qualatex B-Bops – Fun "Balloons with a Beat"
Qualatex Crystals – Elegantly detailed balloons, some with new multicolor designs
Licensed character balloons – New products featuring Barbie., Hot Wheels., Polly Pocket., Spider-Man 3., and other updated designs
More latex colors – Fresh colors like Robin.s Egg Blue and Purple Violet, and expanded sizes in existing colors
The catalog also includes our complete line of everyday Qualatex latex and Microfoil, Bubble Balloons, Qualatex MasterBow ribbon, and educational materials. Be sure to stock up on proven favorites as well as new items to keep up with customer demand.
Request a FREE "Qualatex Everyday 2007" catalog at "Online Catalog" on
qualatex.com,
call 1-800-356-0901, or contact your Qualatex distributor. For the name of a distributor, visit "Distributors" on
qualatex.com,
or call 1-800-356-0901 or 316-685-2266 outside the USA.
Qualatex: Apr/May/Jun 2007 "Balloon Images" Magazine & Online Edition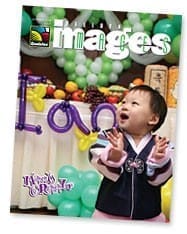 Energize your sales with inspiration from the Apr/May/Jun 2007 issue of "Balloon Images" magazine. From first birthday and Qualatex Bubble Balloon designs to elegant wedding decor, it's filled with unique ideas to jump-start your imagination. Plus, it contains tips on taking winning photos so you can always present your work in its best light!
The Balloon Images Online Edition also features additional Bubble Balloon designs, information to add to your "business toolbox" of ideas, and more!
Check out the "Balloon Images Online Edition" and see if you qualify for a FREE subscription to "Balloon Images" on
qualatex.com.
Qualatex: Qualatex Summer Collection 2007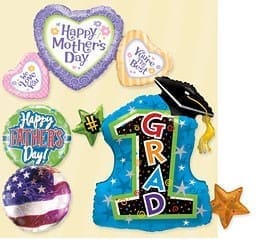 Sail into increased business this summer with colorful new Microfoil and latex balloon designs from the "Qualatex Summer Collection 2007" catalog, along with FREE downloadable Summer Bouquet Ideas. The Summer Collection includes a variety of new designs for Mother's Day, Graduation, Father's Day, and Independence Day. The bouquet ideas make it easy for you to create arrangements for sales success!
Give the gift of music with the new 31″ "Mother's Day Sweet You' B-Bop balloon, which plays "How Sweet It Is (To Be Loved By You)" performed by Marvin Gaye.
Create bouquets and profitable single-balloon sales with the pastel 42″ "Mother's Day Pattern Heart" Microfoil shape, featuring three connecting hearts printed with sweet messages.
Top a variety of graduation bouquets, columns, and more with the 45″ "Graduation Cap" Microfoil shape, a versatile design with big impact!
Make a big impression on grads when you sell the 36″ "#1 Grad Cap & Stars" Microfoil shape, which is decorated with stars and bright colors to express the excitement of graduation.
Sell the bold 18″ "Father's Day! Stars" Microfoil balloon by Party Express from Hallmark to celebrate dads everywhere.
Decorate for Independence Day events with the realistic image of a flag and bursting fireworks on the 18″ "Flag & Fireworks" Microfoil balloon.
Visit "Balloon Ideas". on
qualatex.com
for more seasonal design inspiration.
Request or download a FREE "Qualatex Summer Collection 2007" catalog at "Online Catalog" on
qualatex.com,
or contact your Qualatex distributor. For the name of a distributor, visit "Distributors" on
qualatex.com,
or call 1-800-356-0901 or 316-685-2266 outside the USA.
Reintroducing Qualatex Crystal Balloons

Produced using state-of-the-art technology, new Crystals are 24″ in size and include stunning multicolor prints and intricate designs. They combine the sparkle of precious metal with the clarity of crystal, and are sure to transform your deliveries and decor.
Decorate with Crystals to add elegance to a variety of casual and formal events, such as birthday parties, weddings, and other special celebrations, and use them to create eye-catching bouquets. No matter where you place them, Crystals will captivate guests and add a touch of class.
See the complete selection of Crystals at "New Products" on
qualatex.com.
Then, contact your Qualatex distributor to order. For the name of a distributor, visit "Distributors" on
qualatex.com,
or call 1-800-356-0901 or 316-685-2266 outside the USA.
Get Ready for 2007 Movie Releases

A variety of hot movies are set for release this spring and summer, so stock up on licensed balloons to meet the demand!
TMNT (Teenage Mutant Ninja Turtles) – in theaters March 23
Spider-Man 3 – in theaters May 4
Shrek the Third – in theaters May 18
Pirates of the Caribbean: At World's End – in theaters May 25
Fantastic Four: Rise of the Silver Surfer – in theaters June 15
See the complete selection of licensed balloons in the "Qualatex Everyday 2007" catalog. Request a FREE copy at "Online Catalog" on
qualatex.com,
or call 1-800-356-0901.
To order, contact your Qualatex distributor. For the name of a distributor, visit "Distributors" on
qualatex.com,
or call 1-800-356-0901 or 316-685-2266 outside the USA.
Sponsor News: Meet the new owner of Majiloon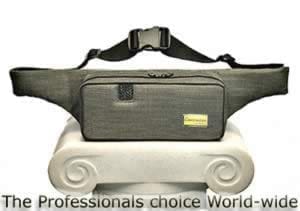 DJ Ehlert is a professional entertainer with over 25 years of performance experience. DJ is also a consultant, author, and inventor with a passion for enriching the lives of others through his products and services.
DJ is the owner of Kenosha Magic and Costume located in the heart of the Midwest between Milwaukee and Chicago. Kenosha Magic is the combination of a retail store, a performance theatre, and a local talent agency.
DJ Ehlert is southeastern Wisconsin.s premier restaurant performer. DJ also performs corporate close up engagements as well as platform shows with clients including Snap On Tools, US Cellular, Abbott Laboratories, and Intermatic Incorporated.
DJ has "appeared" in countless radio shows, newspapers, magazines, and television programs. DJ Ehlert currently hosts hundreds of performances per year in the special theatre that is located at Kenosha Magic as well as many local venues.
DJ Ehlert is the President of SEWMEC (The South Eastern Wisconsin Magical Entertainers Club). DJ is also a long time member of SAM
(The Society of American Magicians)
DJ is also the author of the highly acclaimed multi media program "Success Strategies for the Restaurant Performer."
DJ stays in contact with his network of entertainers with his very popular monthly email newsletter "Performing for Profits" which is available for free.
DJ Ehlert is a devoted family man with a passion for life and philosophy of "pursue your passion."
DJ has spent the last year making several upgrades and improvements to the Majiloon line of professional balloon pumps. DJ's mission for Majiloon is to provide superior equipment for entertainers along with extraordinary customer service!
For information please call DJ at Kenosha Magic: 262-652-0300 or visit
www.Kenoshamagic.com