Press Releases for October 2009
Qualatex Decor Shapes Flier

Be inspired like never before with the NEW Qualatex Decor Shapes Flier, now available online at qualatex.com. Inside you'll find the full selection of Qualatex Microfoil Decor Shapes, along with all of the techniques and design ideas you need to make simply stunning decor for all your events. Visit qualatex.com today and select "Online Catalogs" to view your copy today.
Oct/Nov/Dec 2009 "Balloon Images" Magazine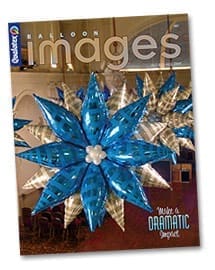 Fall is here, and so is the latest edition of Balloon Images magazine! This issue is filled with fresh, new design ideas and insightful articles that will boost your sales throughout the entire holiday season! Inside you'll find design inspiration for winter holidays, new twists on the classic Arch, exciting industry event coverage, a spotlight article on Japanese balloon artist Masako Nomura, CBA, and more!
You'll also discover how to create and effectively maintain a customer list, as well as all of the hottest trends in milestone birthday decor. Plus, you'll find a full spread of the latest products from Qualatex, along with plenty of profitable birthday, Valentine, and baby bouquets in the "Balloons to Go" section.
This issue is sure to boost your bottomline and inspire you toward successful end-of-the-year sales. See if you qualify for a free subscription to Balloon Images at qualatex.com, where you can also check out back issues of the magazine for useful information and plenty of design inspiration.
"Balloon Magic – The Magazine" #58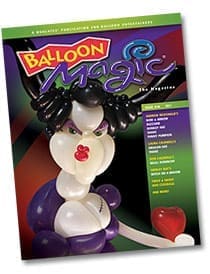 Looking for new balloon figures and hats to master? How about some fun ways to enhance your next balloon performance? Well, look no further than "Balloon Magic – The Magazine" #58! This exciting issue is filled with tons of easy-to-follow figure instructions, creative ideas on how to "wow" audiences and party guests, a DVD review, and more.
Inside you'll learn how to make a frighteningly adorable Skull Scrunchy by Don Caldwell, a Funny Pumpkin and Buzzard by Andrew McDonald, and a wearable Witch on a Broom Hat by Shirley Ray, CBA. You'll also find an insightful review on James Vigeant's "'GEO'metry" DVD, and get a colorful look at environmental scientist-turned-balloon entertainer Smarty Pants, based out of Chicago, IL, USA.
To subscribe to "Balloon Magic – The Magazine," visit qualatex.com and fill out a PDF* order form, or call 1-800-865-4603, or 316-685-2266 outside the USA. Find figures from past issues in the "Balloon Magic Index", then click on "Back Issues" to purchase.
2009 Qualatex Bubble Balloon Collection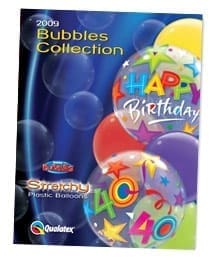 The 2009 Qualatex Bubble Balloon Collection is in.and the selection is bigger and better than ever! This rising star in the Qualatex product line is now available in an impressive variety of NEW sizes, colors, and designs. Your customers will love Bubbles featuring popular, new licensed characters and stars from upcoming and recent movie releases. And look for NEW 15″ Solid-color Bubbles that are perfect for long-lasting decor, along with an abundance of Bubbles for baby, birthday, milestones, holidays, and more!
Bubble Balloons are not only beautiful in appearance, but outstanding in performance. Because they.re made of stretchy plastic, Bubbles are long-lasting, non-oxidizing, and float for weeks. Don't miss out on this unique product that's in a category all its own! View or request your FREE copy of the 2009 Qualatex Bubble Balloon Collection today by visiting "Catalog" on qualatex.com. Contact your Qualatex distributor to place your order.