The Football Helmet
Scott Tripp
Last Sunday, my favorite football team played a lousy game, and blew their last chance at the playoffs. But there are still games to play, and eventually a Super Bowl to watch, so this month I present to you the Football Helmet.
I was at my second Twist & Shout balloon convention, standing in the dealer's room. The convention had been going on for a few days, and balloon creations were overflowing from the jam room into other rooms. You couldn't go from one dealer table to another without stepping over several discarded sculptures.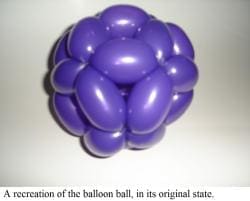 At one point, I noticed a woven balloon ball on the floor, and walked over to pick it up. But before I could reach it, a kid ran through the room, and stepped right on the balloon, popping part of it.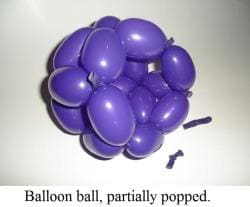 By the time I reached it, four of the bubbles had popped and deflated. It wasn't a sphere anymore, but I kept looking at it, and decided that the popped version could be modified into a small football helmet design. By adding a 160 face mask, you could make a football helmet roughly large enough for a teddy bear. This became my go-to football helmet design for a few years. But I still got requests for wearable football helmets from time to time, and this design wouldn't cut it. I could make full-sized woven football helmets, but it was terribly time consuming, and I didn't enjoy the process.
I kept going back to the popped-ball incident. If popping a section of a small balloon ball yielded a small football helmet, then wouldn't popping a section of a larger balloon ball yield a larger football helmet? The 6-balloon woven soccer ball had been introduced a few years back, and it seemed the perfect size. I gave it a try, and it couldn't have worked out better! It fits just right, and there's no popping required! Just make the ball using the first five balloons, and leave out the sixth. Add a 160 face mask, and you're done!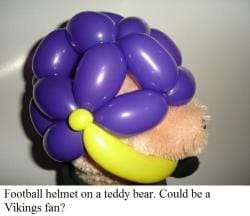 I'm not sure who first created the 6-balloon woven ball. If you know, feel free to write and tell me. I remember hearing that Tim McConeghy had planned to put in on an instructional DVD years ago, but I don't know if that is still going to happen. In the end, it is a geometric shape, so it might just fit into that "public domain" category. But just to make sure that I'm not stepping on anyone's toes, I'll skip over the step-by-step details. If you don't already know how to weave a six-balloon ball, Weaving the first 5 balloons together. Rainbow colors are being used for clarity. you can find directions from a few sources on the internet, or probably just ask someone at a balloon jam. At any rate, weave the first five balloons together, as shown in the photos below.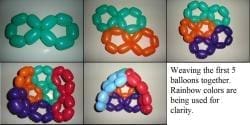 For the face mask, inflate a gray 160 about halfway, and tie. Make a small pinch twist at the knot end (A), followed by a 3-inch bubble. Make another small pinch twist, and follow that with a 2-inch bubble, small pinch twist, and another 2-inch bubble. Lock twist the 2-inch bubbles (B). Make a 4-inch bubble, then another grouping of a pinch twist, 2-inch bubble, pinch twist, and 2-inch bubble (C). Now make another 3-inch bubble and another pinch twist (D). To finish, make a 3-inch bubble, connect to the nearest pinch twist (E), a 4-inch bubble, connect to the next pinch twist, and a 3-inch bubble to connect back to the start. Tie off and discard the excess (F).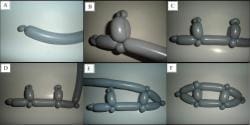 The two pinch twists on the side attach to the appropriate places on the sides of the helmet, and you're done!