The Jar o' Balloons Guessing Game!
Scott Tripp
October has always been a great month for entertainers. Anyone who can mumble the word "magic" has a pretty good chance of getting hired for a dozen Halloween parties as the demand for variety entertainers outweighs the supply.
Still, I market my Halloween magic show ruthlessly for the entire month of October, as well as staying in touch with all of my clients from previous years for repeat bookings. All of this adds up to one very busy month. Then I had my car wreck. In the midst of two weeks worth of doctor visits and chiropractors, and along with rescheduling and shuffling shows during an already busy month, my November BalloonHQ article never got finished. So, in the hopes that I'm able to beat the last minute deadline here, I present to you The Jar o' Balloons Guessing Game!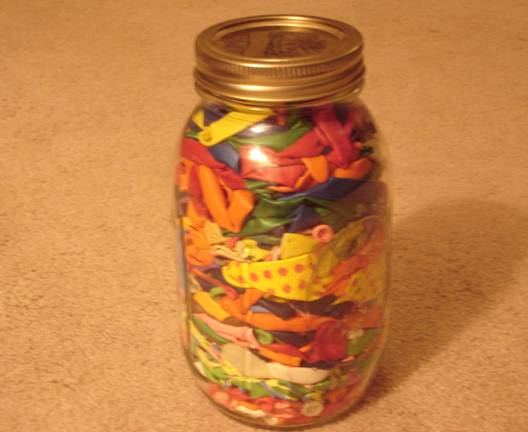 It's just like the old game where you had to guess how many beans were in the jar. Here's a photo of a one-quart Ball jar, stuffed full of balloons. The balloons range in size from 3-inch water balloons to slim jims. There are 260s, hearts, bee bodies, 350s, bear heads, 5-inch rounds, bumpies, 11-inch prints, 160s, and everything in between. So take a look, think it over for a minute, and e-mail your guess to scotttripp@balloonhq.com. Whoever has the closest guess by December 1, 2006 will be the winner. And just to be fair, let's limit it to one guess per person.
And the prize?
Winner will receive a bag of (100) red, white, and blue agate 260 balloons. These balloons are hand-dipped, and not available in any store. Your balloon sculptures will be more colorful than ever before, and your twister friends will be agate with envy!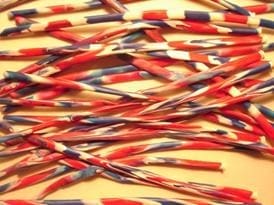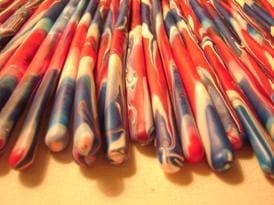 Somethin' Else
The Bonus Section
Okay, maybe glass jars aren't the best packaging for balloons. The plastic bag seems to be the way to go, with balloon companies adding their own twist. Zipper top or not? One gross, 100 balloons, or 50? As the major companies continue to decide, let's take a moment to look back on the evolution of the Qualatex balloon bag.
| | |
| --- | --- |
| No date (1970s) | |
| Bag dated 1995 | |
| Bag dated 1998 | |
| Bag dated 2003 | |
| Now | |