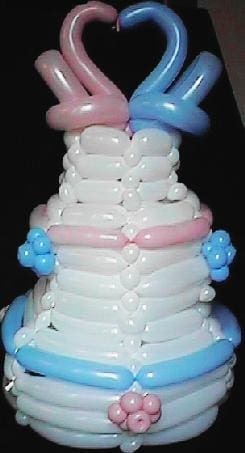 Balloon Fabrics
(Formerly Balloon Weaving)
The material here is excerpted from Attack of the 50 Foot Demon, a
CD-ROM by Larry Moss. More information about the CD, including ordering
information is available online.
What is a balloon fabric? Background information on terms stolen from the fabric industry.
Making balloon braids A simple beginning.
2-D circular fabrics The most common "weaving" technique.
3-D shapes based on circular fabrics Modifying what you already know.
Tubular fabrics A faster technique for very large tubes.
Criss crossing balloons Another general purpose technique
Flat objects A special case of circular and spiral techniques.
Tiling balloons Using hearts for balloon fabrics.
Stuffing balloons in frameworks An interesting way to create texture quickly.
Speed techniques
Making repairs to large sculptures
Other references
A
large scale example combining all of the techniques discussed here, and a
few others not yet written up. 15,000 balloons were used in this project.
---
---
Balloon fabric guide by Larry Moss.
This guide and the support material, including all of the examples found
here and quite a bit more , is available on the CD-ROM, "Attack of the 50
Foot Demon".
The video clips found on the CD-ROM are
larger and more clear than that found on this site.
For more information about
the CD, check this
out.
Note: Special thanks to Mark Balzer for doing the background research used
in the terms section.
Last modified: 6 July 1999