Balloon HQ Featured Photographs:

Happy Halloween from Balloon HQ!
You may view Featured Photographs and information from past months here!
Photographs supplied by Troy Perry
The Balloon HQ (llc) photo archives and the Guide to Balloons and Ballooning each house an amazing array of holiday ideas. Browsing through the Balloon HQ photo gallery will yield many fall and halloween sculptures, including spiders, witches, ghosts, cats, snakes, aliens, fall ceterpieces, and classic decor ideas. Or, check out areas of the Guide, like the Halloween category of the Sculptures in Messages section or, search the guide for the term 'ghost' and see where you end up!
These pictures, showing the work of Troy Perry, are just a couple examples of what you can find when you explore Balloon HQ.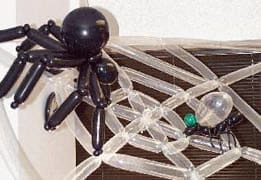 Spider, fly and spider web. The spider web is woven of clear 260s, the fly is constructed of a black 260, a green round or 260 segment, and the wings of a clear 6″ heart balloon. The spider is a creation of black 260s and round balloons.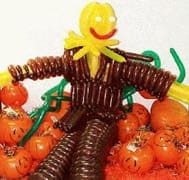 Scarecrow in a pumpkin patch. This scarecrow is constructed of 260 balloons and resides in a patch of round-balloon pumpkins. See the Balloon HQ Highlights page for more information on balloon fabric (weaving) techniques.
---
This site and the e-mailing lists are owned and managed by Balloon HQ, LLC.