Balloon HQ – Company History
1991 and 1992
Larry Moss was attending college to become a programmer and moonlighting as a magician. He began incorporating balloon twisting into his act. Being a member of rec.juggling, he decided to announce an open forum for balloon artists. Originally, there were 6 subscribers.
Larry Moss's first email post to the twister e-mailing list.
Twisters E-mailing List messages were first archived February 2, 1992 on servers at the University of Rochester (later moved to a in a sub-directory under Larry's FooledYa.com domain around 1994). This marks the official beginning what has now become Balloon HQ.
---

1993
First FAQ for Twisters E-mailing List subscribers created in November, 1993 after a call for assistence from Larry.
Larry puts the first preliminary web pages on-line; "Balloon Modeling on the Net" began to expand its focus from the e-mail list to a larger web presence.
---
1994
Sheena Beaverson and Mark Balzer discover the balloon Twisters E-Mailing List.
Mark Balzer immediately begins distilling information from the ftp archives into a Frequently Asked Questions list (FAQ). This FAQ was the first iteration of the Guide to Balloons and Ballooning.
Sheena and Mark begin to create the first version of many Guide chapters.
Also, the first hints of the Internet boom were seen.
---
1995
Mark Balzer's first email post to the twisters' list.
Traffic from balloon decorators began to flood the twisters' list after our first IBAC attendance.
The web was continuing to grow. Because we were out there early, we get write-ups in web articles and listed in HTML yellow pages directories.
The Balloon Decorating E-Mailing List was created September 4, 1995.
The Guide expands quickly, every topic is now a separate file; many new sections are created.
Upcoming Events listings are added in November.

---
1996
The Guide continues to grow and new Guide sections are added. A lot of work gets put into establishing these resources. Photo archives begin to grow in earnest.
---
1997
We finally got overwhelmed in 1997, and made the tough decision to take the whole thing off-line. Within an hour of announcing this, Pioneer Balloon Company became our first major sponsor, enabling Balloon HQ to stay online.
After that, the Guide began to resemble the robust entity it is today and photo collections continue to expand. The first on-line international balloon photo contest appeared, coordinated by David Graves.
In June, a temporary mailing list (sdslegal) was created to handle the discussion of the SDS (stuffing balloons in a grid) patent situation.
The Balloon Weaving/Plaiting Tutorial designed by Larry Moss and Mark Balzer went online in the fall. <!–
---
SKB 3/10/97: Balloon terms
SKB 3/10/97: Balloon care
SKB 2/22/97: Health effects of balloons
SKB 1/13/97: Decorating 260 Balloon Sculptures
SKB 1/13/97: Balloon Sculpture Decorating
SKB 1/06/97: How to make various types of twists
SKB 1/05/97: One-liners for balloon creations
MB 01/04/97: How balloons pop
MB 01/04/97: How helium-filled balloons float
LM 01/29/97: The business of ballooning
SKB 01/4/97: Other uses for balloons
MB 01/04/97: Balloon science 101
MB 01/03/97: Balloon books, magazines, videos, and other resources
MB 01/03/97: Monickers for balloon artists
LM 12/29/96: List of Contributors
SKB 12/8/96: The allure of balloons
SKB 12/8/96: Balloons in "pop" culture
SKB 12/8/96: How to tear apart a pencil balloon
SKB 12/8/96: Balloons and teaching
SKB 12/8/96: Stupid balloon tricks
MB 12/07/96: How balloons are made
MB 12/07/96: Color
SKB 12/1/96: Buying balloons
SKB 10/5/96: Crowd control
SKB 10/2/96: Blowing up a balloon
MB 09/13/96: Mailing list rules and ethical stuff (what can be posted)
MB 02/12/96: Balloon acts, parties and games
MB 02/12/96: Twister fashions
MB 12/13/95: About this guide
MB 12/13/95: Future plans for this guide, the archive, and the mailing list
MB 12/13/95: General Info about the mailing lists
MB 12/13/95: ASCII notation for sculptures
MB ???/??/95: History of balloons
–>
---
1998
Both the Guide and the photo archives continue to expand. Balloon Contests become a standard feature.
Discussions on the Twisters List triggered coordination between Balloon HQ and T. Myers to initiate planning of the first ever balloon conference for entertainers (T&JAM '99).
---

1999
February 25, 1999 – Photographs of the very first T&JAM placed online at Balloon HQ.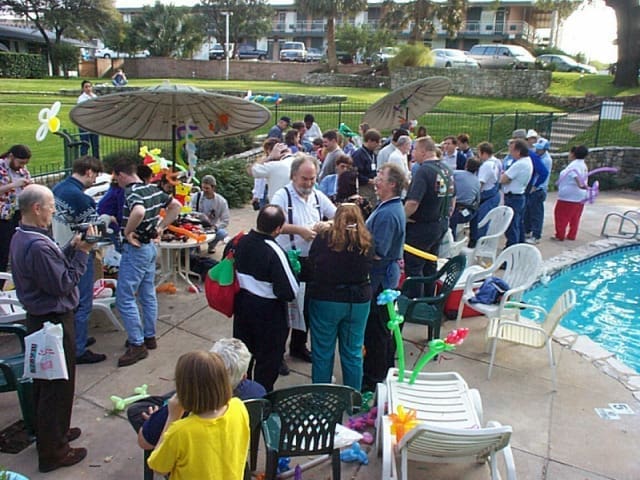 BHQ shows many changes, with a new front page design offering monthly Feature Photos, new Guide chapters, and the retirement of David Graves as photo editor. Additionally, BHQ hired its first paid (part time) employee, Jacob Levine, in June.
Paid memberships allow Balloon HQ to offer expanded services to the worldwide balloon community.
Larry Moss has a big year, as he adds many of his old colums from the Magic Menu to the Balloon HQ archives, debuts his Guide to Balloon Busking, and completes the largest 260 sculpture ever made (at the time) with Attack of the 50 Foot Demon!.
The new server came online in December, just in time for Y2K.
---
2000
Twist and Shout 2000 was held in Peabody, MA in February, establishing a yearly tradition of balloon entertainers conferences in the US. We also attend the Millenium Jam in Belgium and IBAC and the National Party Show in Chicago.
Balloon HQ serves an average of 100,000 web pages per month.
BHQ staff work on many behind-the-scenes tasks, including the design of an official logo.
---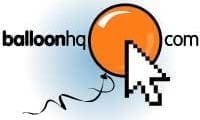 2001
BalloonHQ.com logo unveiled in February.
The Photo Database is unveiled, along with other database-driven member services. These include dynamic listings of Upcoming Events and Classified Ads, an e-mailing List interface, and Member Portfolios.
Balloon HQ has a display booth at the National Halloween and Party Show.
Monthly columns by guest authors become a popular new feature after a young Stacey Schmude inspires the grown-ups to contribute.
An on-line trivia contest complements Bruce Walden's "What's New Bruce?" US product showcase. Bruce inspires many people to become Balloon HQ Members.
Balloon HQ serves an average of 300,000 web pages per month.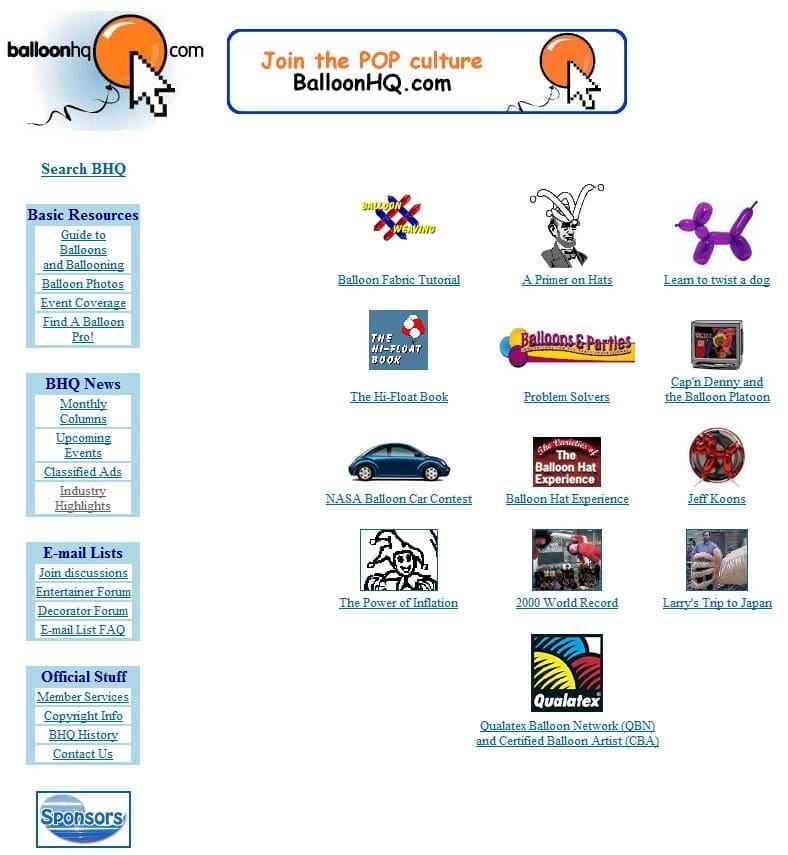 ---
2002
Balloon HQ is formally contracted to provide on-line event coverage for the first time. Coverage of both Twist and Shout 2002 and IBAC 2002 is very well received.
Balloon HQ celebrates its 10 YEAR ANNIVERSARY by sharing cake with everyone at Twist and Shout 2002 and organizing a BHQ Sponsor Scavenger hunt at the National Halloween and Party Show in Rosemont Illinois. One winner recieved a 2.1 mega pixel digital camera.
The new site CSS navigation structure is rolled out in December.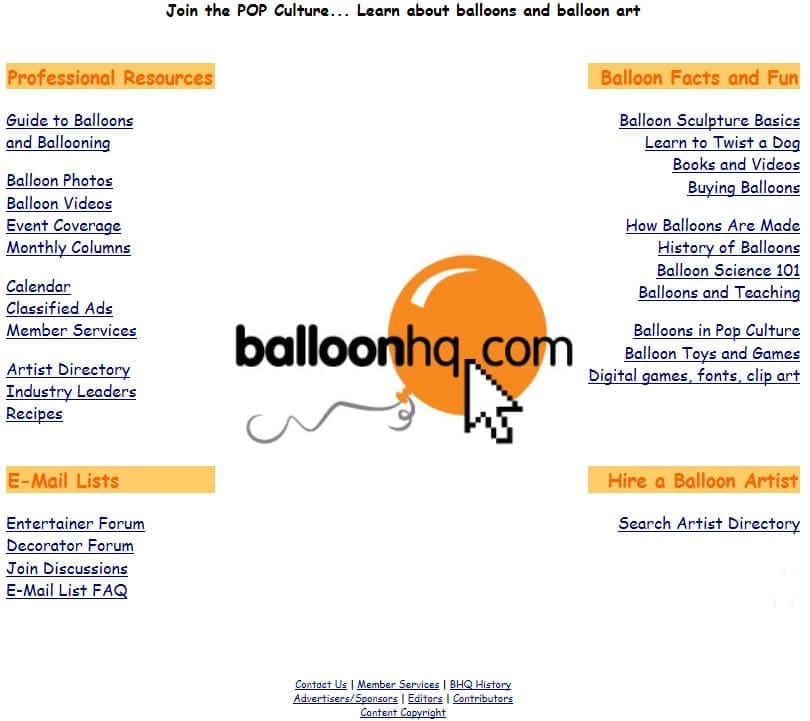 ---
---
2003
Balloon HQ once again organizes a BHQ Sponsor Scavenger Hunt at the National Halloween and Party Show, with one person winning a 2 mega pixel digitel camera.
BHQ runs a multi-month trivia contest, sponsored by IBAC. The prize is a free IBAC full registration for IBAC 20 in 2004.
Ralph Dewey initiates a monthly sculpture challenge, as part of his monthly column.
The internet, as a whole, experiences a drastic increase in the amount of spam. BHQ is forced to deal with large scale spam related problems throughout the year.
Many new balloon conferences and events offer an unprecidented amount of learning opportunities for balloon professionals.
Balloon HQ emailing forums are no longer the number one BHQ priority. Database driven web services, including Member portfolios, Upcoming Events, Classified Ads, and the ever-expanding Photo Database (over 13,000 pictures) have come to be fundamental resources for the digital balloon community.
---
2004



NASA's rovers Spirit and Opportunity rovers use inflatable airbags to bounce on the surface of Mars until coming to a complete stop. Mark Balzer was part of the JPL rover team, of course.
Sheena Beaverson, Larry Moss (CBA), and Mark Balzer accept the IBAC 2004 Crystal Award, for their work with Balloon HQ. See the column about winning the Crystal.
BHQ introduces customizable portfolios that Members can embed into their own web site.
Larry Moss produces and co-designs Balloon Manor 2004
---
2005
In an effort to preserve the history of the balloon industry, BHQ introduces the Who's Who section of the site in February.
BHQ RSS Feeds for popular areas are added in September.
As Internet spam worsens, BHQ contracts with Postini for spam protection, offering all BHQ members an improved email experience and a return to quick delivery of content to all mailing list subscribers.
---
2006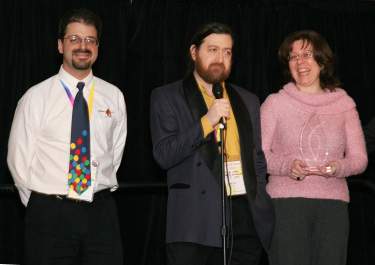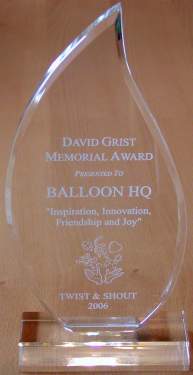 BHQ staff complete a revision of photograph categories, to assist in searching over 35,000 database entries.
Sheena Beaverson, Larry Moss and Mark Balzer receive the David Grist Memorial Award (Gristy) from the producers of Twist & Shout for their work with BalloonHQ. See the column about winning the Gristy.
Larry Moss produces and co-designs Balloon Manor 2006
Balloon Manor and BalloonTown USA present BHQ event coverage utilizing embedded portfolios.
Balloon HQ serves an average of 100,000 unique visitors per month.
---
2007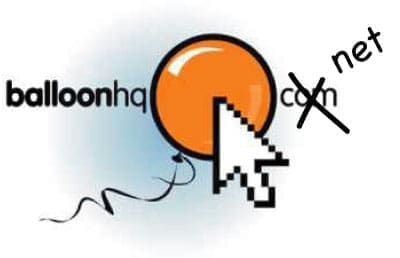 Hyperlinks to the original photos uploaded to Balloon HQ are made available to BHQ Members. These photos were originally archived but not displayed, as internet access speeds could not previously support viewing of these larger files.
The BalloonHQ.net portal interface is released in February, 2007.
Balloon HQ celebrates the 15th anniversary of the origins of BalloonHQ.com in February.
---
2008
Balloon HQ celebrates the 10th anniversary of twisting conventions at Twist and Shout 2008 with fond memories of TJAM '99.
Balloon HQ helps with industry efforts against anti-balloon legislation in California.
---
2009
Balloon HQ celebrates the publishing of the 100th BHQ column authored by Ralph Dewey.
Balloon HQ congratulates Jeff Brown on 10 years of Balloons Around the World.
Larry Moss and a team of balloon artists crafted a complex art installation in front of a live, streaming fixed-mount camera. The sculpture was a re-interpretation of the Birth of Venus by Sandro Botticelli. The Venus Cam pictures were used to create 3 minute movie.
---
2010
Balloon HQ provides live, streaming photos of the Twist and Shout 2010 jam room and the World Balloon Convention large sculpture venue.
Balloon HQ dabbles with social media, with live tweets from the Twist and Shout Stage Competition and the World Balloon Convention final night gala.
Balloon HQ offers a workshop at the World Balloon Convention on "Establishing a Professional Web Presence" using custom websites, professional directories and social media. <!–
---
2011
–>
---
2012
Balloon HQ celebrates its 20 YEAR ANNIVERSARY.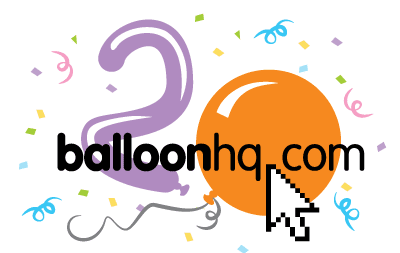 Vimeo Videos become available, in addition to embedded YouTube videos.
BHQ beta tests an IPhone ap for uploading photos to the Photo Database
---
2013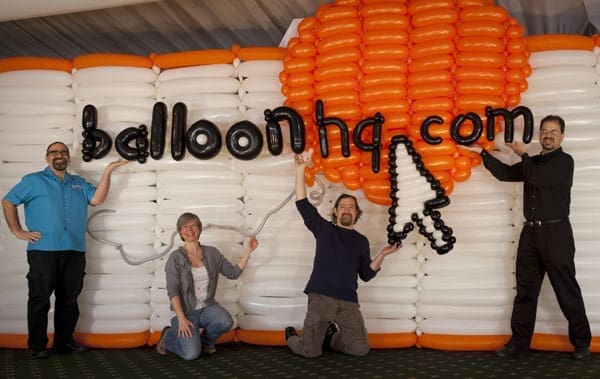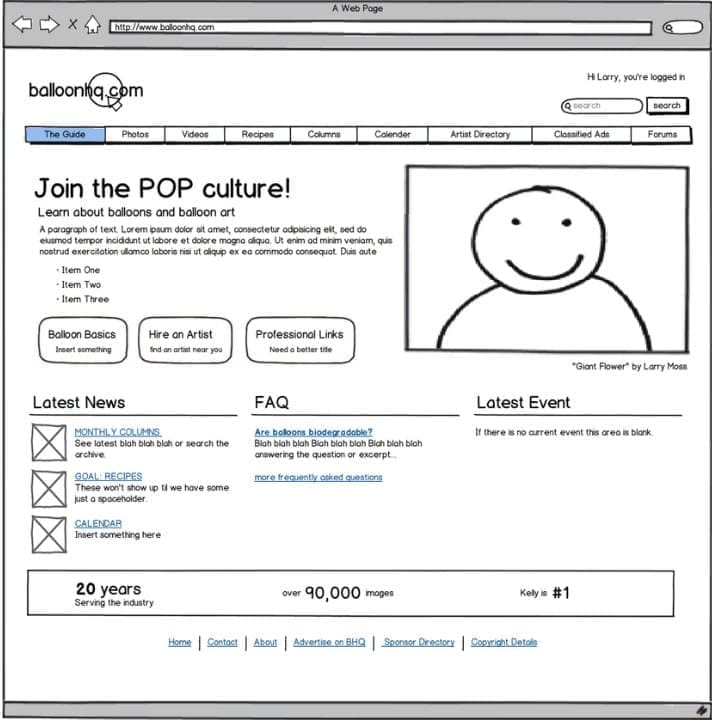 Brian Asman and Paul Teal create a life-sized BalloonHQ logo, just for fun. It was awesome.
BHQ contracts with programmers to develop a New BHQ, based on a concept design by Kelly Cheatle. The design phase completed by Fall.
---
2014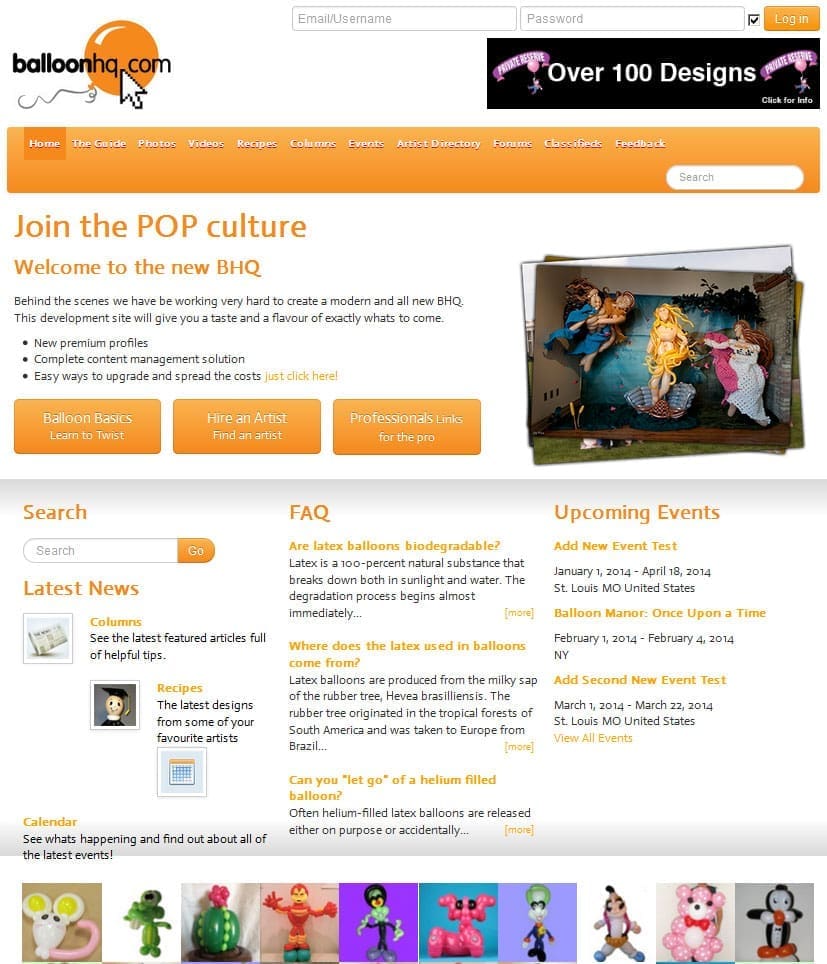 BHQ finalizes the new BHQ beta site for initial testing, sets a course for official roll-out.
---
The Future
Balloon HQ will continue its mission to educate, share, and promote balloon art for entertainers and decorators.
---
Sheena Beaverson
March 13, 2014